9-course Seafood Peking Duck (北京烤鸭套餐) Set
Set Menu for 6 or 10 pax
Peking Duck Skin in flour skin/crepes
Braised Fish Maw with crab meat and golden mushroom
Mouth Seasonal combination
Braised wild mushroom with bean curd skin and seasonal vegetables
Duck meat cutlet
Steamed live garoupa fish with garlic toppings
Sauteed whole prawn in premium soy sauce
Braised Ee-fu noodles
Mouth dessert of the day
Peking Duck Seafood set is available for $178+ for 6 pax (U.P. IS $228++).  10 pax set at $288+ (U.P $328) !
Available daily. Book online for Maxwell outlet (Peck Seah Street near Tanjong Pagar MRT) to enjoy no service charge & complimentary Tea, Pickle and Towel.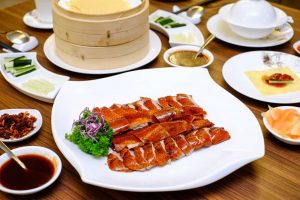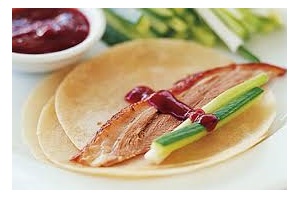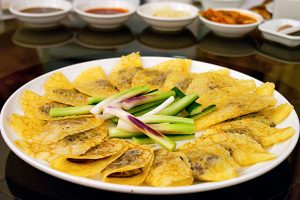 5 Ways to Savor Peking Duck at Mouth Restaurant!
Serving Peking Duck 北京烤鸭 (special price $39.80++) in Chinatown Singapore since 1989. We cater to various popular cooking styles for Peking Roast Duck.
-Peking Duck w handmade crepe
-Braise E-fu noodle w Shredded Duck Meat
-Sauteed Duck Meat in Black Pepper
-Sauteed Duck Meat in Spring Onion
-Shredded Duck Crispy noodles
Our duck is sourced from U.S.A and slowly roasted by our master chef. The crispy duck skin is thinly sliced and served with condiments in our own handmade crepes . The duck meat can be served in various styles, but if you have a preferred style, just let us know.
You can order Peking Duck alacarte or with our Peking Duck Seafood set at unbeatable price in CBD.
MEGA LOBSTER PEKING DUCK SET PROMO AT MOUTH RESTAURANT MAXWELL ROAD
Celebrate at Mouth Restaurant Maxwell road, Airview Building. Located centrally in Chinatown area, near Tanjong Pagar MRT.
Savor our Lobster and Peking Duck Seafood 8 course set 北京烤鸭和龙虾套餐 for 6 pax and 8 pax.
Arouse your aroma with our farm fresh Kai Lan, lightly stir fried with organic Truffles. With whole Lobster and Peking Duck some more!
Our fabulous Lobster Peking Duck Seafood 8 course set is available at $218+ for 6 pax & $338+ for 10 pax, No service charge too!
从2月10日开始销售. Avaiable from 10 Feb 2010.