1-FOR-1 SRI LANKA CRAB PROMOTION !
Our popular 1-for-1 Sri Lanka Crab promotion is back with 5 different cooking styles – Chilli Crab,Black Pepper Crab,Steam,Sauteed with Ginger Onion and Cream of Salted Egg Yolk !
Sri Lanka Crab promotion is now available for $44.80 for 2 crabs! U.P. $44.80 per crab. (Offer is for dine-in only)
Order with 4 pax Peking Duck set for a sumptuous meal in CBD! Excellent choice for birthday celebration, business lunch and for our friends from overseas to savor some of Singapore's best delights in one setting.
Order online now  at Maxwell road outlet (Peck Seah Street near Tanjong Pagar MRT).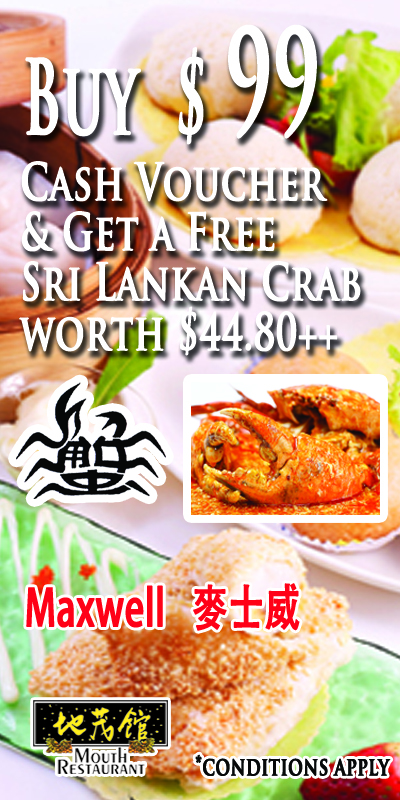 SPEND $99 ON DIM SUM AND ALACARTE ITEMS AND GET FREE CHILLI CRAB!
Checkout our latest dining voucher available on our online shop. Best Dim Sum restaurant promotion in Singapore. Our $99 voucher is redeemable for Dim Sum and Alacarte items daily; lunch, high tea or dinner. More than 100 items to redeem!
FREE- Chili Crab worth $44.80++
or Peking Duck with egg crepe worth $48.80++
or Steam Garoupa Teo Chew style worth $63++ ,    with every purchase of $99 voucher!


2021 母亲节的特别套餐 – MOTHER'S DAY 2021 SUMPTUOUS 8 COURSE SET 2021
1) 地茂特色拼盘
MOUTH'S DIM SUM PLATTER
2) 红烧蟹肉鱼鳔羹
BRAISED FISH MAW SOUP WITH FRESH CRAB MEAT
3) 油浸笋壳鱼
DEEP  FRIED  SOON HOCK FISH WITH  BLENDED SOYA SAUCE
4) 野菌炒时蔬
SAUTEED WILD  MUSHROOM WITH SEASONAL VEGETABLE
5) 姜葱冬粉美国龙虾
SAUTEED BOSTONLOBSTER & GINGER VERMICELLI
6) 蒜香吊烧鸡
CRISPY SKIN SPRING CHICKEN W GARLIC
7) 地茂焖伊面
BRAISED  E-FU  NOODLE
8) 冰糖莲子红豆沙
DOUBLE BOILED RED  BEAN  LOTUS SEEDS$288+for 5 pax, $448+for 8 pax, $558+for 10 pax
NO 10% Service Charge. Complimentary Longevity Bun for each person.